Action from Peter Guilder's wargames holiday centre - he was the creative designer for the TV show and an immense influence on wargaming throughout the 1970's, 1980's and 1990's
Back in the 80's when I became aware that wargaming was a serious hobby rather than "just playing soldiers", I heard rumours that in the 1970's there had been a wargames television series called "Battleground".
Shown on Tyne Tees it was an attempt by the hobby to break into mainstream culture. Unlike televised darts, snooker and sheep dog trials, it failed!
All I knew was that it was presented by Edward Woodward who had played a spy with a penchant for wargaming in the absolutely superb TV series and film "Callan".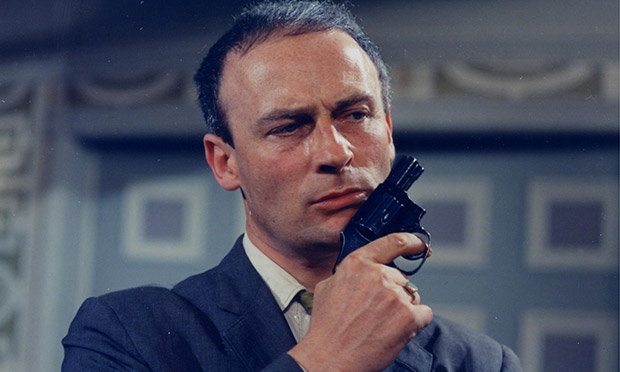 Edward Woodward as "Callan"
Mention of this mythical "Battleground" has wafted around wargames magazines and blogs for as long as I have wargamed. So, I was very surprised to find some of the missing episodes have been put on youtube. Edgehill, Waterloo and the first part of Chalons are played using superbly painted figures and terrain for the 1970's. See Peter Guilder, legendary wargamer, Duncan McFarlane editor of the Miniature Wargames and Wargames Illustrated, Brian Tilson well known authority on ECW, and other luminaries play a wargame whilst Woodward explains what is going on. They play using measuring sticks with windage indicators and break British squares with Polish lancers (a hoary 1970's myth!). Woodward presents from a leather chair amidst heavy books and painted maps which still influences how we all view the presentation of the hobby.
Go to youtube and search for Battleground Tyne Tees and it is uploaded by a C. Douglas. Have a look and let me know what you think!